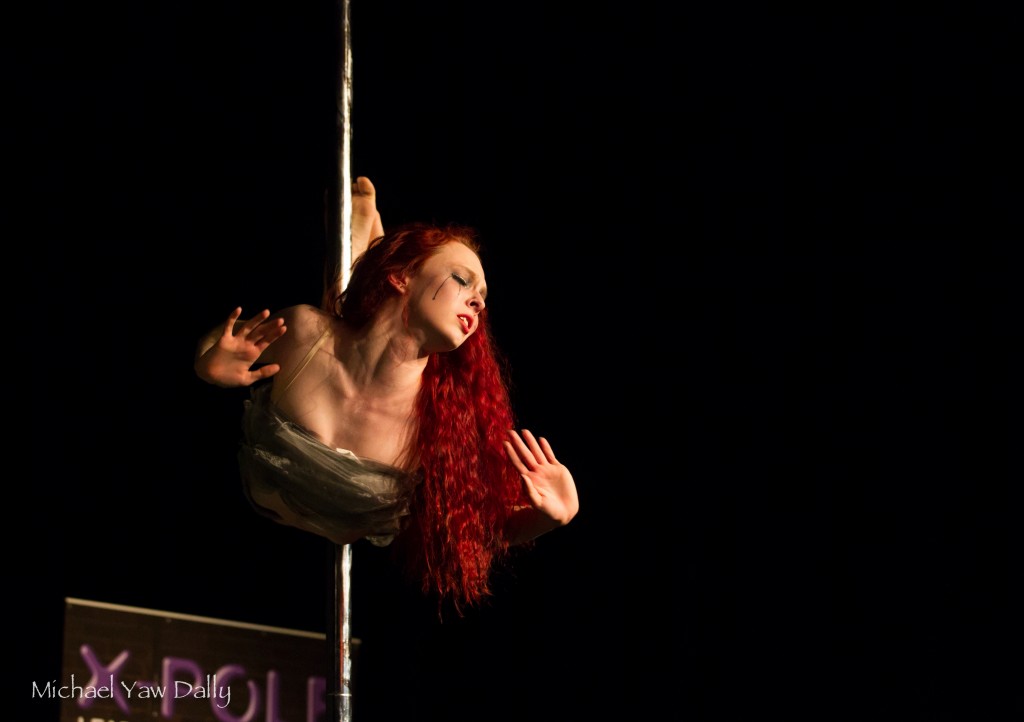 The All Wales Pole Championships (AWPC) 2013 was held March 9th In Venue Cymru, Llandudno and saw individuals from across Wales travel to compete for the welsh title.  The AWPC is the only professional pole dancing competition run exclusively for residents of Wales; and 2013 saw the highest standard of dancers/performers we have seen so far in the competitions history.
With 4 categories from beginners through to professionals, there was a massive variety in theme and dance throughout the whole of the competition.  We saw Michael Jackson themed, Irish Dancing, Charleston Styles, Eastern and Oriental themes, these are just to mention a few!  There were stories told through dance, mimes acted and comical moments.  Indeed it is fair to say that the AWPC 2013 really demonstrated a multi-cultural spectacular competition, that had the audience enthralled from the moment it opened with a burlesque style performaNce to the finishing act which comprised of some amazing BIG tricks!
There were several students from Pagan's Pole competing this year, and they all performed amazingly! Mandy Owen, a beginner,  performed a Michael Jackson Thriller routine, demonstrating great dance moves off the pole and some great pole work; and our very own Rebekah Newstead won this category with her beautiful Paloma Faith routine; putting all those ballet moves to great use.
Within the Intermediate category Lisa Capper had the audience cheering, clapping and smiling away with her LMFAO routine, while Elena Neophytou swung her way through to 3rd place with her swing routine.  Elena was also the proud victor of the 'something special' award, avery privileged title to win indeed.
Advanced category saw our students Tegan Penton perform a beautiful slow routine to Soft Shock, demonstrating her amazing strength and trick range; while our Beth Fegan won 3rd place with her 'New Shoes' routine; smiling that beautiful smile the whole way through her routine.
The professionals are always the highlight of the competition; as there is such a high level of performance and trickery to be experienced.  This year was no disappointment, each professional bought something different and unique to the stage; but we are very proud and pleased to announce that it was our very own Heather Walker who won the ultimate title of "AWPC PROFESSIONAL CHAMPION 2013′, with her beautiful, strong and flexi performance to Kelly Clarkson's 'cry'.
As this will be Heather's final year in Wales we really are incredibly proud and so pleased that she will be leaving us with such a great title under her belt, and now look forward to watching her as she takes the UK by storm 🙂